+ See all events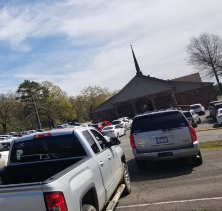 Parking Lot Service!
Sun, Jul 12th at 9:00am
We will also stream our Family Devotional Service on Facebook at 9:00 and stream a recording of the parking lot service on Facebook at 10:00. We'd love to have you come out, if you feel safe, but please know it is fine to stay and participate in the service online.
No RSVP necessary.
You can arrive at any entrance, we'll have volunteers directing the flow of traffic and handing out communion as you arrive.
Please plan on arriving about 15 minutes early so we can get everyone situated.
If you decide to get out of your car, please plan on wearing a mask and maintaining social distancing guidelines.
We will have our worship leaders mic'd up and on a mobile stage down near the bottom of our playground but positioned so we don't have to face the sun.
You'll tune your FM radio to 93.7 to hear the worship.
The building will not be open (restrooms are available for emergency use).
Location: NW Church of Christ Parking Lot
Contact: Marvin Bryant